Most Common Ways Digital Directories Improve the Customer Experience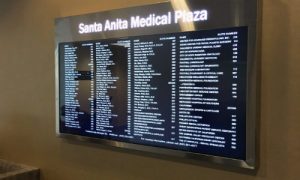 Digital directories are a lot more than simple navigation tools these days. Some people still use the traditional means to find the direction or distance from point A to point B. But the tech-savvy property owners and large commercial buildings are fast moving to the digital version of the traditional directories used a decade ago.
Digital directory signage is very commonly used to help visitors navigate modern buildings and commercial spaces. Digital signage is an innovative way to complement physical spaces with digital wayfinding solutions.
A proper digital directory sign can create a very user friendly experience by providing personalized assistance to them. This deepens the level of engagement between the brand and its customers and improves customer service greatly. It is also a great opportunity for interior designers, architects and brand owners to provide an enhanced customer experience.
Where digital directories make the most impact?
Digital building directories are usually placed and used where there is a huge space that people might need to find specific locations within the building facility that otherwise would be difficult to track their way to the destination.
Airports – The airport terminal is the most important place to put up a digital signage. Here you can find thousands of passengers as well as personnel traveling on a daily basis.
While some may be frequent travellers there can be several tourists as well as newbies. The digital signage aims at enhancing the travel experience of the passengers in both opportunistic as well as practical design.
The airport digital directory system can serve as a lifeline in case of emergencies and can make the passenger feel comfortable in the huge airport space. It helps people to find their gate, amenities, and baggage. In addition, it can also give weather and travelinformation to the passengers.
Retail malls – Digital directory signs must be incorporated into retail malls and stores to help direct customer traffic and help them in finding out the products on their shopping list. It can also be a good way to showcase offers and top selling products. This can increase the revenue of the store.
Office Buildings – Offices and corporate directories take full advantage of the advanced wayfinding capabilities of digital building directory design.
Hotels – Digital building directory solutions are quickly replacing the map and brochure kiosk at many hotels. The digital wayfinding signage can help you locate the in-room features, amenities, entertainment zone, and eateries in and around the hotel premises.
Schools – Digital directory signs can be an innovative way to overcome the communication challenges across school campuses.
Conclusion:
Digital directories are worth its investment —
With digital signage, you can display weather information, news, alerts, marketing messages, social media posts, directions and amenities in and around a location. This helps to improve the brand value of the place where it is used. Hence it is important to incorporate digital signage while designing or constructing your new space. It can enhance the aesthetics of your place and improve the customer satisfaction to a great extent. Hence it is worth your money.